Where has summer gone? In just a few short weeks, the kids in my hometown will be heading back to school. We're squeezing in as many last minute summer fun days as possible! When I hear 'back to school,' my mind immediately floods with memories of Friday night fotball games, bundling up with friends and family, and heading out to enjoy great food and fellowship after the game. Now that I'm all grown up, I enjoy football on the big screen, and spending time with the whole family while we watch the game and have some good food, too!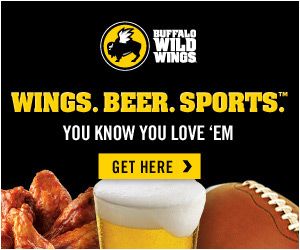 Our family loves getting together at our local Buffalo Wild Wings restaurant! Not only is it an awesome friendly-family atmosphere, the food is incredible! When my husband's family gets together, we often go to Buffalo Wild Wings, because the guys can all watch football, the kids can have a good 'ol time, and the gals can chat and enjoy the great food! The guys are big fans of the
Game Changer Beer
, made by Redhook and the
Bottomless Boneless Lunch
! This is one of the only places my husband will agree to go to for wings that are cooked just right, with all of the wing flavors he loves!
Buffalo Wild Wings has great options for kids, and we have always had excellent customer service. I used to always want to have weekend get-togethers, and put out a big spread of food, but who wants to go crazy over cleaning the house beforehand, and afterward? Not me! It's so much easier for us to call our family and friends and ask everyone to meet us at Buffalo Wild Wings, where we can all be together, catch the game, and have a great time!
I can't wait to get the family together to catch up, eat until our bellies are full, and catch the first big game of the season at Buffalo Wild Wings!