Tied to the August 27th release of Disney's SUPER BUDDIES on Blu-ray Combo Pack, check out the fun activities and clips below!
Play some fun match up and decoder games then create your own Super Hero Identity and transform your canine companion into a Super Buddy with a cape craft!

Check out these adorable pups in action!
We were lucky enough to receive an advanced copy of this adorable film, and I couldn't wait for B to see it! He is such a huge fan of animal movies, I knew he'd love these caped canines! Bartleby Livingstone, an ambitious twelve year old boy, who loves writing and illustrating comic books. His grandfather is a fantastic encourager and supporter of Bartleby and his interests.

Bartleby's granddad gives him a fantastic gift on his twelfth birthday, a super hero cape, and a matching outfit for his Golden Retriever pup! All of his friends attend a party, dressed as super heros, with their puppies- who together, make up the Super Buddies. While on a scavanger hunt around the farm, the kids discover that their favorite comic book stories are true, and that Earth is in danger. The Super Buddies come to the rescue to help find the rings of inspiration and return them to their rightful owners.

Super Buddies is a cute story of friendship and teamwork. I was surprised that Balian was so taken with this movie- he's asked to watch it about five times in the span of two days. Even I was sucked into this delightful tale of a boy and his dog, and learning what it means to be a true friend, and that anyone can be super- just by being themself. I highly recommend this film, as it's one of my favorite straight to DVD releases that Disney has put out in quite a while! This is one that whole family will love!
Click above to download some awesome Super Buddies activities to try with your famly!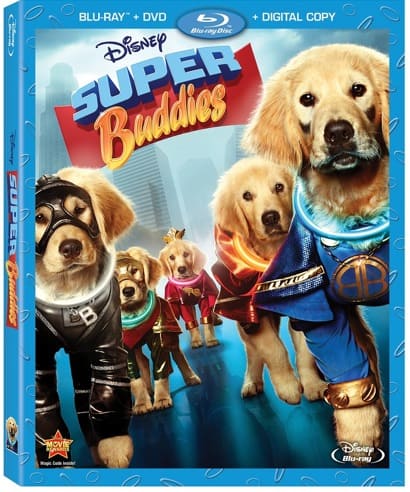 Want It? Buy It!
Super Buddies
is available on Disney DVD and Blu-Ray on August 27, 2013 (hey- that's today!). Look for it wherever you choose to purchase home entertainment products.