Part of Balian's Bedroom Makeover
One of the coolest things about Balian growing up (too quickly for my liking, I might add), is watching him develop his own likes and interests. When we began redecorating his room, and turning into a true big boy bedroom, he started to have a little to say about what went on the walls, and where. We left some blank spaces, or canvases, if you will, for decor that was to come. We saved a blank space on the wall near his very favorite hideout for a special decoration we thought he would really get a kick out of.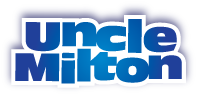 When I learned about
Wall Friends
, a new interactive kids decor product from Uncle Milton, I knew it would be just the right special touch for Balian's decked out Lightning McQueen bedroom. You may recall Steph having worked with Uncle Milton last year. She reviewed some pretty cool World in My Room products from Uncle Milton with her kiddos, which you can check out, here.Founded in 1946, Uncle Milton connects kids with the coolest toys, puzzles, games and more (and they're pretty educational, too!).
Uncle Milton's Disney Wall Friends: Lightning McQueen
Uncle Milton just came out with their new Wall Friends, which are Disney characters that mount on the wall with light and sound at the touch of a button from a remote control! We were sent the dashing Lightning McQueen Wall Friends Character from our friends at Uncle Milton, and as soon as Balian saw it, his eyes lit up and he asked if he could play with it. I tried to explain that it was a decoration, and that he actually could play with it, after we got it set up in his bedroom.
Open box- the McQueen Wall Friend with remote control.
Out of the box- Lightning looks so realistic... and shiny, too!
The adorable
Lightning McQueen Wall Friend
is over 13" long, which is a great size, because it's large enough to be seen, but it's not so large that it takes up a ton of wall space. Lightning is controlled by a battery operated remote control, which kids can easily use, by simply pressing a button.
The Lightning McQueen remote control.
We installed the AA and AAA batteries in the Wall Friend, and the remote, and then headed into Balian's new race car room to test it out. There are three holes in the back of Lightning McQueen, made for easy hanging. We slipped Lightning over a couple of nails on the wall in Balian's room, in a spot where he'd be able to easily see his new friend. There is a high, low and off position you can switch the character to in the back. I selected the low position before I hung him on the wall, and then handed the remote over to Balian to try it out.
Balian, testing out the remote control...
It didn't take Balian long to get the hang of the remote. It's a small size, perfect for little hands to use. There's only one button to press, and each time you press it, Lightning McQueen lights up, and says some of his favorite phrases! Some of his catch phrases get stuck in my head, and I even find myself saying, 'Ka-Chow!'
Lightning McQueen, all lit up and ready to entertain us!
I couldn't wait to hear what Lightning would have to say to us, and neither could Balian. We turned the lights out in his room, and then I told Balian to press the button on the remote to turn Lightning on. He grabbed a front row seat, and we watched as the light show began!
Check out our new Lightning McQueen Wall Friend in Action!
Is that cool, or what? Balian feels like the coolest kid in town with this hot new interactive wall decor for his big boy bedroom! Lightning is fun to play during the daytime, and after the sun has gone down. We love to have a little light show after we've read our bedtime story each night, and before we get Balian all snuggled into his bed. One of the best things about this product, is that there's no power cord. I have weird issues about power cords in baby and toddler rooms, so the fact that this is battery operated really eases my mind.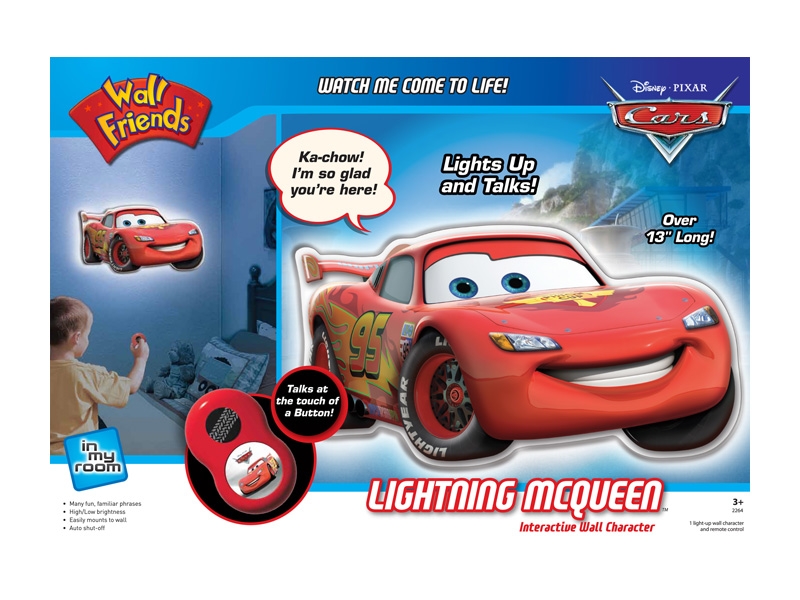 Features of the Lightning McQueen Wall Friend
from Uncle Milton
Fun, familiar phrases, like "Kachow!"
A great night light with high/low brightness settings and auto shut-off.
Lightning McQueen is over 13 inches wide.
Easily mounts to the wall
Remote controlled
Requires 3 AA and 2 AA batteries (not included).
For ages 3 and up
Uncle Milton has some other wonderful Disney characters who are ready to come to life before your eyes! Check out some of these favorites...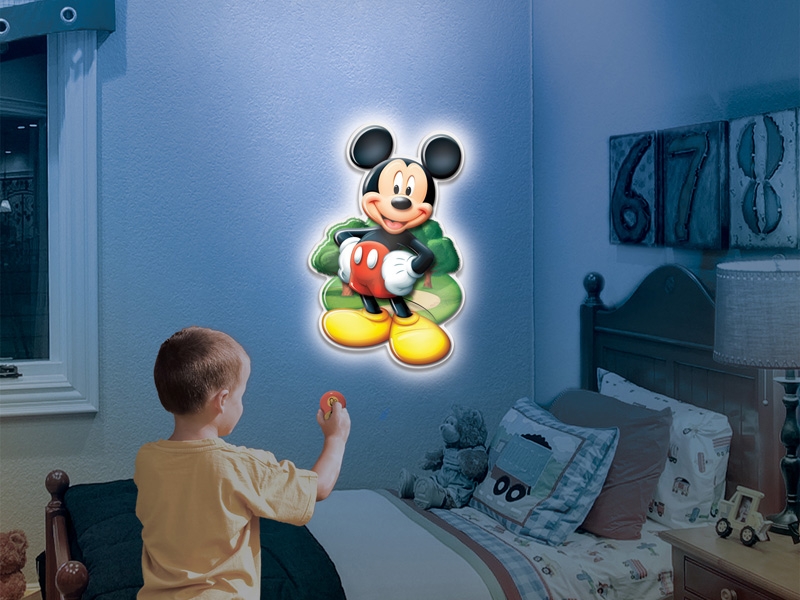 Mickey Mouse Wall Friend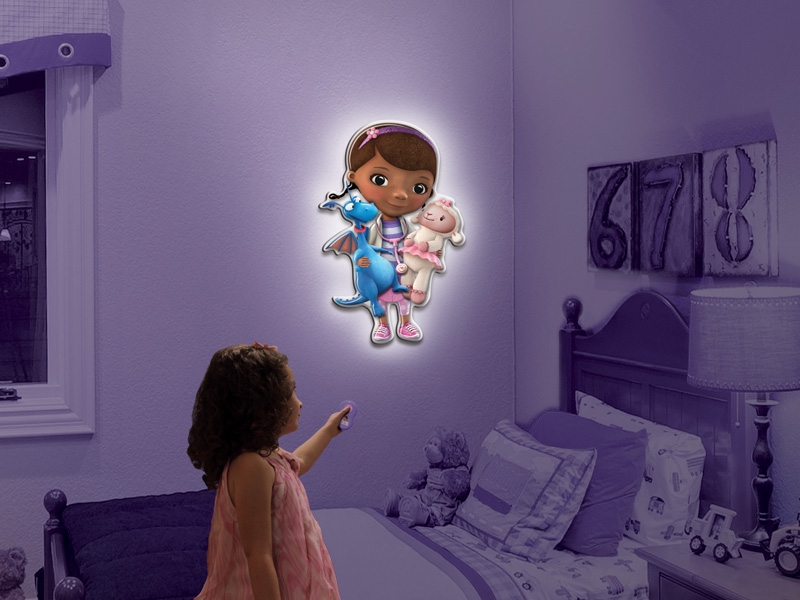 Doc McStuffins Wall Friend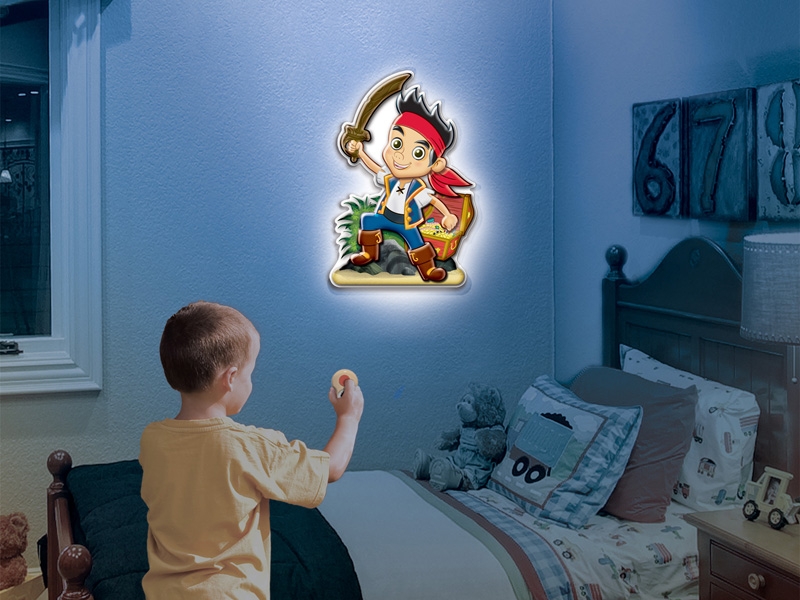 Jake and the Neverland Pirates Wall Friend
Head on over to Uncle Milton to check out all of their cool and educational products for kids! If you like the idea of the Wall Friends, you may want to check out their Wild Walls, for ages 5+! Uncle Milton is social and would love to connect with you on
Facebook
,
Twitter
, and
YouTube
. You can also sign up for the
Uncle Milton Newsletter
to be kept up to date on the latest and greatest products from Uncle Milton!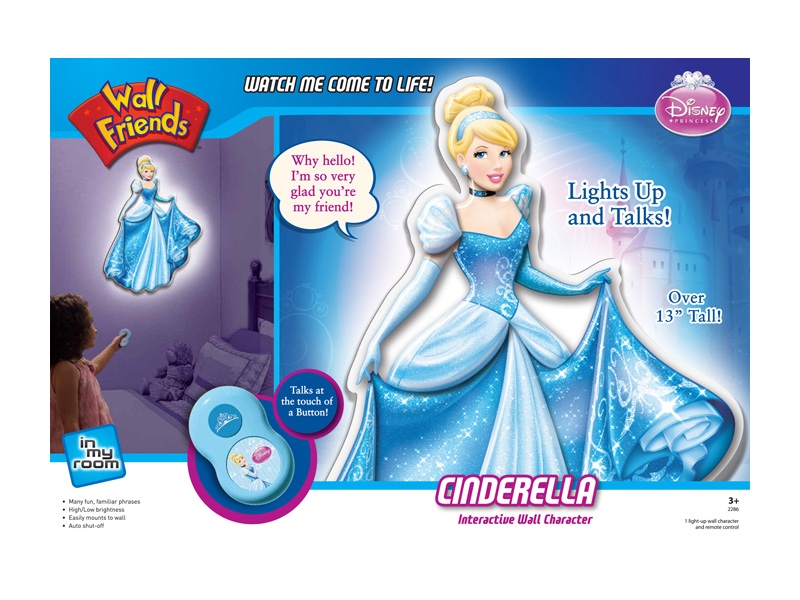 One lucky MBP reader will win their very own Wall Friends character of choice from Uncle Milton! Just use the Rafflecopter entry form below to enter to win! Giveaway is open to US residents, 18 and older.
Special thanks to Uncle Milton for helping us add this super special decorative and fun feature to Balian's big boy room, and for offering this super cool giveaway for our readers, too!