I have not lived with a pet since my husband and I got married. Growing up, however, we had a springer spaniel named Cocoa, and she was a happy, active, well-loved member of our family. It was hard getting used to not having a dog around, and when my parents decided to adopt a puppy from our local animal shelter last year, my sister and I were thrilled that there would be another dog in the family to love.
My mom and dad's dog, Sid- enjoying an afternoon of play!
Having a puppy is sort of like having a baby- they have a lot of needs, and demand a lot of attention. Just as we care for children, we have to be responsible and care for our pets. One of the best ways we can care for our best pals, is to protect them by using safe, reliable flea and tick control.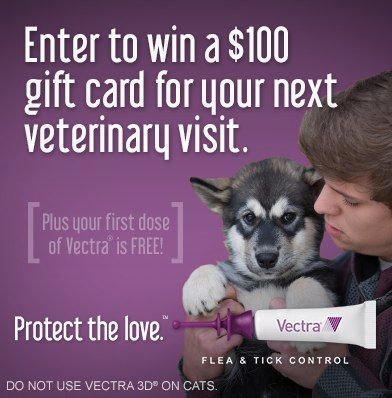 Pretty much no matter where you live in the US, your pet is at risk of meeting fleas and/or ticks. Just the other day, I found a tick on my own son! It only takes one bite from the infectious pests to spread disease to your pet. Protecting them with Vectra 3-D will help to keep fleas and ticks at bay!
Vectra 3-D is a fast acting formula, which kills pests on contact. They don't have to bite to be killed. It begins to reduce flea feeding in five minutes and kills fleas in six hours! Not only does Vectra 3-D protect against fleas and ticks, it protects against other biting parasites, like mosquitos, sand fleas, lice and mites. Vectra 3-D kills adult fleas and prevents the development of all stages of fleas, including eggs, larva, etc. This long-lasting formula protects your pet for one month, and remains effective after bathing and/or swimming. This application is convenient, through a patented applicator, and can be used on puppies as young as 7 weeks old.
*Do not use Vecta 3-D on cats!
Vectra 3-D is available at the vet's office, so be sure to ask your vet about it the next time you go for a visit! You can even print out a coupon for a
free dose of Vectra flea & tick control
. Just print it out and take it with you on your next visit to the vet for a free dose!
Enter the Protect the Love Sweepstakes through Vectra's Facebook page to claim your
free dose of Vectra flea & tick control
, and to be entered to win a $100.00 to use toward your next vet visit. One gift card will be awarded every week for the duration of the contest.
Connect with Vectra on Facebook and Twitter (@Vectra) to stay up to date on the latest news, to receive special deals, etc!